Reserve The New Maserati Ghibli Hybrid in Philadelphia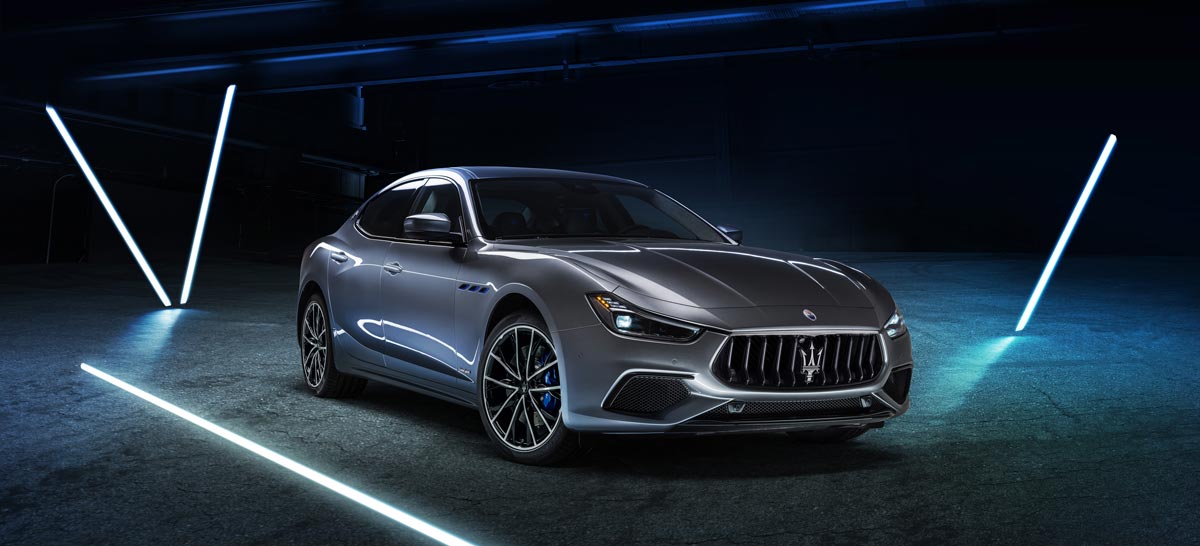 The 2021 Maserati Ghibli Hybrid: Going Green Never Felt so Good in Philadelphia
The long-awaited Maserati Ghibli Hybrid has finally made its debut, and it's getting stellar reviews. No matter where you're going in Philadelphia, you're destined to turn heads and travel in style in this unique Maserati Hybrid when it becomes available in early 2021. This is no ordinary hybrid sedan. While the look of the 2021 Ghibli Hybrid may look a bit familiar, what's under the hood is something brand new.
The 2021 Ghibli Hybrid is Maserati's first-ever hybrid car, and they put a lot of thought and hard work into what you want in a luxury sport sedan. The 2021 Ghibli Hybrid not only looks great but is fun to drive and good for the environment as well.
New Design Features
Taking a look from the outside in, the body of the Ghibli Hybrid is based on previous versions with a few subtle yet noticeable upgrades. The grill on the 2021 Ghibli has a few modifications giving the car leaner look. Other new and exciting changes to the exterior include light blue styling accents specifically added for the hybrid model and a new set of taillights.
After taking an up-close and personal look at this amazing car at Maserati of the Main Line, you'll be amazed at just what it has to offer and how stylish, classy, and chic the 2021 Maserati Ghibli Hybrid is. The interior of this car is loaded with a lot of innovative and modern features that are essential for today's drivers.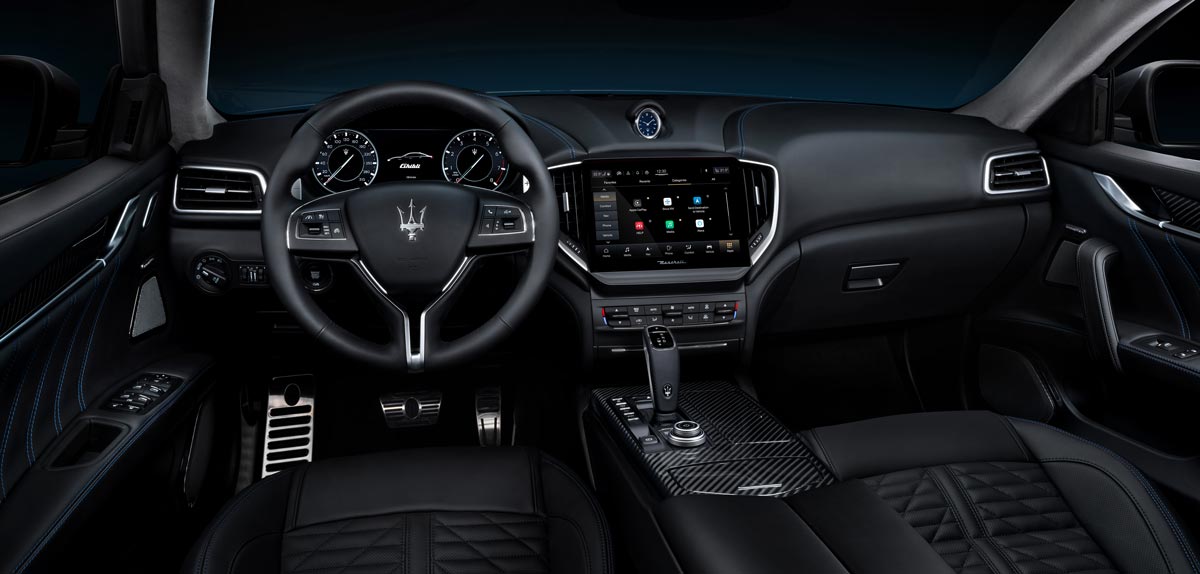 The interior space of the Ghibli Hybrid is enough to accommodate five adults comfortably with plenty of legroom. To complement the posh interior, the 2021 Ghibli Hybrid offers an elite and attractive color combination. Rounding out the decor, the seats provide the ultimate comfort through premium leather.
Advanced Technology
If you're looking for the latest and most innovative tech in a vehicle, then the 2021 Maserati Ghibli Hybrid has just what you're looking for to stay in touch, drive safely, and enjoy all the modern conveniences a luxury car has to offer.
Additional upgrades to the cabin include a renovated dash featuring an infotainment system that runs on Android Automotive. The display size was increased from 8.1-inches to 10.1-inches for greater visibility and ease of use. A new, completely digital instrument cluster is now featured replacing the vintage analog gauges of previous models. A new Maserati Connect program keeps the vehicle's software up to date and consistently monitors the vehicle for issues.
Hybrid Power
The 2021 Maserati Ghibli is a "mild hybrid." This means that the engine gets electric assistance to increase performance, lower emissions, and provide better gas mileage. For the 2021 Ghibli Hybrid, the assist comes from a rear-mounted hybrid battery, a 48-volt alternator, and an electric supercharger, also known as an e-booster.
The all-new Ghibli Hybrid boasts a 2.0-liter engine. When combined with the electric supercharger, the engine delivers 330 horsepower and 450 Newton-meters of torque from 4,000 rpm. That's a lot of power for a four-cylinder engine, especially in a supercar like a Maserati. If you're looking for speed and performance, the 2021 Ghibli Hybrid delivers.
According to Maserati, this amazing four-cylinder turbocharged sports sedan can go from 0-to-60-mph in 5.7 seconds and travel at speeds up to 158 mph. The 2021 Ghibli Hybrid features a ZF eight-speed automatic transmission for smooth and easy driving.
The 2021 Ghibli Hybrid offers a 20 percent increase in fuel economy and produces 25 percent less CO2 emissions than the non-hybrid models. This is just the beginning for Maserati and its production of electric vehicles. The company will be unveiling new hybridization and electrical vehicles in the coming years.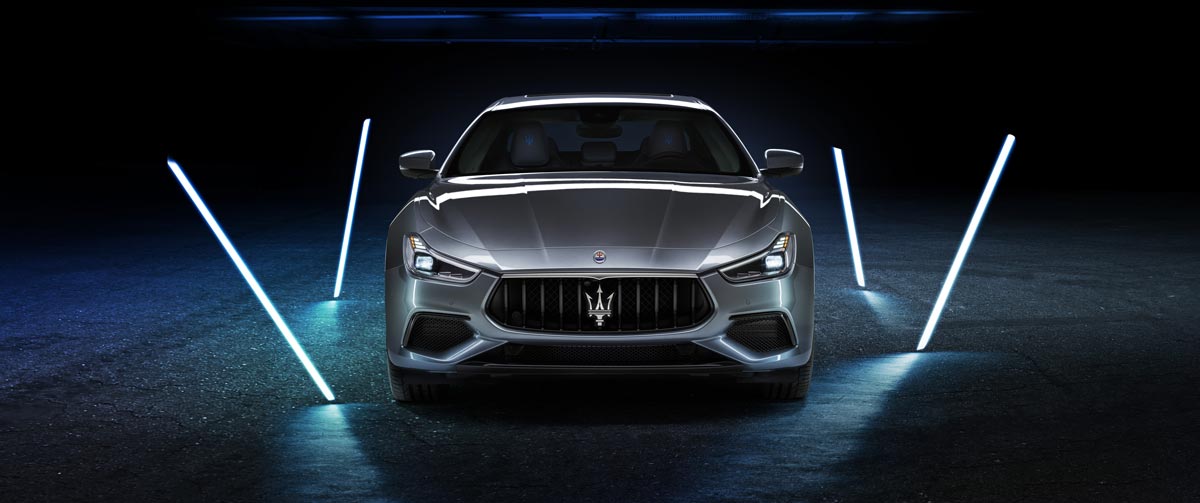 Coming Soon to Philadelphia
The 2021 Maserati Ghibli Hybrid will have something for everyone. While production for the 2021 Maserati Ghibli Hybrid will not begin until September 2020, the first models will likely be available in early 2021.
For further information, please contact us and we will happily assist you in answering all of your questions.
Get in Touch
Contact Our Sales Department

:

(484) 804-4800
Monday

9:00AM : 6:00PM

Tuesday

9:00AM : 6:00PM

Wednesday

9:00AM : 6:00PM

Thursday

9:00AM : 6:00PM

Friday

9:00AM : 6:00PM

Saturday

9:00AM : 5:00PM

Sunday

Closed